Interview with Brian McKeen and Geoffrey Fieger

Brian McKeen
Detroit Medical Malpractice Attorney

Geoffrey Fieger
The Nation's Leading Personal Injury Lawyer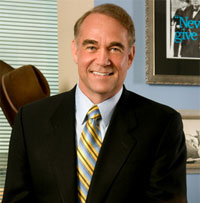 Roger W. Clark
Founder & Managing partner of The Clark Law Group
Brian McKeen
, Detroit Medical Malpractice Attorney
Brian McKeen began practicing law in 1982. During his career, he has become a powerful advocate for his clients and one of the foremost medical malpractice attorneys in Michigan. He has tried cases throughout the United States. He currently sits on the executive boards of the Michigan Association for Justice (MAJ) and the American Association for Justice (AAJ). Mr. McKeen formerly served as chair of the AAJ Professional Negligence Section, Medical Negligence Exchange Group and Birth Trauma Litigation Group (BTLG).
Since 2001, McKeen & Associates has generated the year's top verdict in Michigan four times, including securing the state's largest medical malpractice verdict on record in 2001, when a jury rendered a verdict award of $55 million in the case of Hall v Henry Ford Health System. McKeen & Associates also topped all Michigan verdict awards in 2002, with an award of $22.5 million in the case of Blazo v McLaren Regional Medical Center, et al; in 2006 with an award of $16 million in the case of Lowe v Henry Ford Health System; and in 2007, with an award of $35 million in the case of Oppenheim v Aeneas C. Guiney. Mr. McKeen was recently inducted to The Inner Circle of Advocates and named Top Attorneys in Michigan as published by The New York Times in September 2012.
Geoffrey Fieger
, The Nation's Leading Personal Injury Lawyer
Practicing for nearly 40 years, Geoffrey Fieger is a veteran of the legal battlefield. His command of the law, both as a trial litigator and as a scholar, has made him one of the most sought-after attorneys in the nation. Though he has always practiced from his firm's home in Southfield, Michigan, he is known all over the world for his charismatic trial presence and his refusal to back down from the battles that matter. In fact, the Detroit College of Law at Michigan State University named The Geoffrey Fieger Trial Practice Institute in his honor.
Roger W. Clark
, Founder & Managing partner of The Clark Law Group
Roger Clark is the founding member and managing partner of Clark & Goldberg., www.clarkgoldberg.com . In his more than 25 years practicing law, Roger has earned a national reputation as a successful trial attorney representing insurers, cable television providers, and small and large businesses in a broad range of business litigation matters.