Interview with Steve Murphy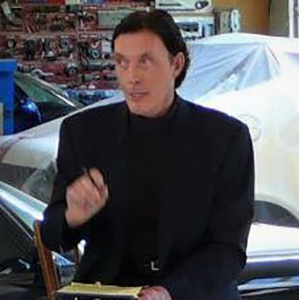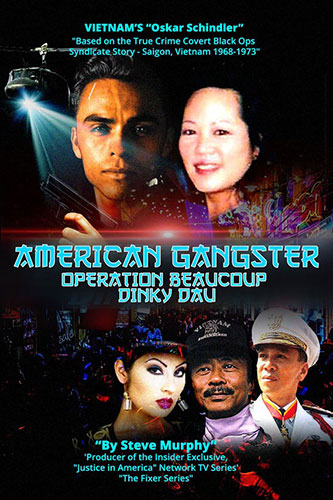 Steve Murphy
author of "American Gangster – Operation Beaucoup Dinky Dau"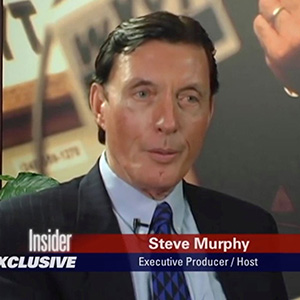 Steve Murphy
Executive Producer & Host
Steve Murphy, author of "American Gangster – Operation Beaucoup Dinky Dau"
If you like edge-of-your seat action, exotic locations, real life spy, adventure, thriller, and combat stories, steamy sex, and protagonists who are "the stuff great characters are made of" …you've come to the right place!
Steve Murphy is not your typical writer. He might be your most atypical writer right up there with Hemmingway and Louis L'Amour, because like them, he struck out on high adventure, at the age of 17, traveling throughout South America to Mexico City, Panama, Bogota, Columbia, to Peru, across the Andes to Cusco, Machu Picchu, Lake Titicaca, Copacabana, to La Paz, Bolivia and to Santiago, Buenos Aires, Iguazu Falls, Brasilia, Sao Paulo, and then he enlisted in the US Army, and volunteered for the Infantry, where he served with the 1st Infantry Division, and later with a MAT, Mobile Advisory Teams.
After discharge from the Army, Steve spent the next five years working covertly as a "contractor" to the Central Intelligence Agency's Phoenix Program's Counterinsurgency and Counter-terrorism project, on a never before revealed project known by the innocuous cover name, "Operation Beaucoup Dinky Dau" , and coordinated the largest Black-Market Operation ever sanctioned by the CIA.
"Operation Beaucoup Dinky Dau", although fictionalized provides a complete account of a secret operation that was never supposed to be revealed, unfolding new insights into America's ever-changing wars.
This story draws on the experiences and accounts of those men, led by a former SSG/MAT Team Advisor, John D. Walker, known in Saigon as Johnnie Walker or the "The Fixer", and those who directed the covert operation from the senior corridors of Washington DC and the CIA. Steve gained highly unusual access to the records and the individuals who ran this top-secret covert organization, "Operation Beaucoup Dinky Dau", which supplied the U.S.-led indigenous teams.
The operation directed flights of the CIA's Air America program that flew civilians, diplomats, spies, refugees, commandos, sabotage teams, doctors, war casualties, DEA officers, and visiting VIPs. They also directed the airlift of a humanitarian mission to build US hospitals and provide development aid of $450 million to prop up as a facade to covert operations.
The operations also included moving Pacification cash to village chiefs, stolen PX goods, Converting local military trust funds, operating a U.S. funded casino for entrapment of black-market money, i.e. "Beaucoup Dinky Dau". Their motto was the same as Air America's slogan …. "Anything, Anywhere, Professionally".
Besides his writing Steve's extraordinary dedication and a passion for the underdog, he and his film crew have produced, directed and written over 700 Network TV Shows and Documentaries, traveling all around America…. Stories all based on real life David v Goliath legal stories, broadcast as the Insider Exclusive "Justice in America" Network TV Series "Justice in America" as seen here @ http://insiderexclusive.com
The Insider Exclusive "Justice in America" Network TV Show Series, a "60 Minute" style Investigative TV Show Series, "Behind the Headlines Investigative Journalism" reports the graphic truth of the "Real Justice in America", and the truth about real "ordinary" people, their real lives, and the lawyers who guide them through the legal maze they face in extreme life-altering adversities… Always up close and personal, gritty and provocative, and always unfiltered.
The Books: "Heaven's Most Wanted" Novel Series"
"2:22 A.M." ; "The Black Widow Killer"; & The Cartel Queen
THE FBI REPORTS THAT 40% OF ALL MURDERERS ARE NEVER CAUGHT – UNTIL NOW
In America, killers are nearly as likely to go free as to be caught.
But not anymore. Bestselling author Steve Murphy, has created a unique new Book and TV Series called 'Heaven's Most Wanted', (HMW), following the highly successful 'America's Most Wanted', TV Series, (AMW), to catch murderers, who thought they got away, and bring them to justice.
'HMW' does just that.
It's a supernatural thriller is in the same genre as 'The Lovely Bones' and 'Highway to Heaven' but with an 'Ace Up its sleeve', the help of the Divine. The series was inspired by TV Producer, Bob Jones' own daughter's unsolved murder.
Using Divine supernatural sources, God enlists Bob's help on earth, to bring justice to all those murdered souls, still awaiting resolution of their fates in 'Heaven's Hiatus' waystation, so that they can move on to Eternal happiness.
Inspired by actual true events. You are about to enter another dimension, a dimension of sound, a dimension of sight, a dimension of mind, and a wondrous land of imagination. You're moving into a land of both shadow and substance, of things and ideas, and the world of Heavenly Justice.
You are about to cross over into the Zone of "Heaven's Most Wanted!"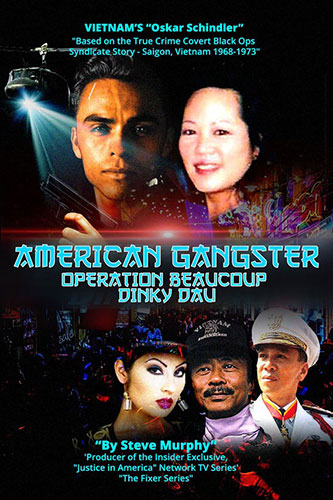 The Book: "American Gangster – Operation Beaucoup Dinky Dau"
ISBN: B07P9KMMSZ
Get the book
BASED ON THE EXPLOSIVE TRUE STORY OF A TOP SECRET COVERT OPERATION known by the innocuous cover name, "OPERATION BEAUCOUP DINKY DAU", the clandestine "unofficial, off-the-grid logistics Support Operation" to funnel millions of dollars of US military aid to the U.S. led Indigenous teams, the Montagnards in the CIA's Phoenix Program, fighting North Vietnamese forces during 1968-1973.
This never before told story was never supposed to see the light of day because it tells the story of the covert operations campaign, "OBDD" waged on behalf of the US Government against the North Vietnamese, but also reveals the intimate relationship of the top leadership of the Johnson and Nixon administrations in that campaign. A special unit in the Pentagon was tasked to supervise the mission authorization program. Known as the Office of Special Assistant for Counterinsurgency and Special Activities (SACSA) and reporting directly to the Chairman of the Joint Chiefs of Staff, it was responsible for coordinating the approval procedures for all "OBDD" operations.
Casting light on the Federal Government's links with organized crime and how a highly decorated American MAT Team Advisor Vietnam Veteran, Johnnie Walker, became Saigon's most successful American Gangster, as well as the most influential "unofficial" Defense Attaché Office (DAO) "Contractor" to the CIA's Phoenix Program, while also becoming the most successful Black Marketeer in Vietnam, and the owner of the infamous supper club and casino, "Beaucoup Dinky Dau". It's a story most Americans have never heard of and shines a new and disturbing light on the role of the United States in the creation of communist Vietnam, and their treatment of the indigenous tribes that fought for the CIA's Phoenix Program.
It's the story of the underbelly of the Saigon metropolis like few others. Corrupt Generals, shady Politicians, gangsters, prostitutes, bootleggers, opium addicts, jazz musicians, deserters, black marketeers, and your run of the mill criminals, murderers, thieves, and con artists – Johnnie observed and worked with them all in his underground black-market network. Johnnie Walker became very wealthy by dominating Saigon's War profiteering, Black Market, Money Laundering, and Drug Trafficking for all the major Vietnamese Crime Lords Generals in Saigon, as well as for South Vietnam's President Nguyễn Văn Thiệu, and Air Marshall /South Vietnam's VP, Nguyễn Cao Kỳ.
His astounding change began in 1968 when he discovers that Washington intends to abandon his friends and former MAT Team Montagnards, "The Yards", who were members of the CIA's Phoenix program, and who he'd fought side by side with as a MAT Team Advisor in Pleiku. He loved "The Yards" and the War Orphans the Yards took care of, and he was going to make sure he did the "Right Thing" for them.It was an amazing turnabout for the once money-hungry Walker, because even though he did not begin his journey as a hero, by the time the war was winding down, he fulfilled every one of the great eight characteristics of heroes: he was smart, strong, resilient, selfless, caring, charismatic, reliable, and inspiring.
He used his cunning to bend the system to help him and his over 600 Yards and 100 Orphans escape Vietnam. He was strong in the face of constant danger and double-cross, and he placed the well-being of The Yards and Orphans above his own well-being. This big-shouldered "Crime Thriller Oskar Schindler Story" novel set in a mobbed-up late 1960s – 1970s Saigon, Pearl of the Orient, Vietnam, "American Gangster Operation Beaucoup Dinky Dau" is the first "Crime Thriller Oskar Schindler Story" to ever emerge from Vietnam. Across the canvas of a city peopled by the corrupt, the cynical, and the deceived, the author, Steve Murphy, crafts a wicked and tough saga of retribution and double cross.
Steve Murphy
, Executive Producer & Host