Interview with Philip Lee Williams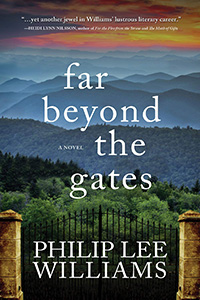 Philip Lee Williams
author of "Far Beyond the Gates: A Novel"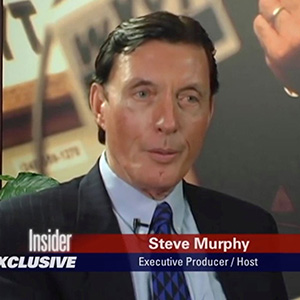 Steve Murphy
Executive Producer & Host
Philip Lee Williams, author of "Far Beyond the Gates: A Novel"
Philip Lee Williams is the author of 20 published books, including 13 novels, four works of non-fiction, and three volumes of poetry. His books have been published by such presses as St. Martin's, W. W. Norton, Random House, Grove Press, Ballantine, Dell, Viking/Penguin, and Mercer University Press, as well a number of other smaller and university presses.

His new novel, Far Beyond the Gates, is his 20th published book.

Philip's autobiography It Is Written: My Life in Letters, came out in September 2014 from Mercer University Press. A new volume of poetry The Color of All Things: 99 Love Poems came out in March 2015. It is the winner of the Adrienne Bond Award for Poetry.

His most-recent previous novel, Emerson's Brother, was published in May 2012. It is about the mentally challenged brother of noted American writer Ralph Waldo Emerson. His 1000-page novel, The Divine Comics, was published in November 2011 by Mercer University Press. This book is a modern re-imagining and updating of Dante's fabled Divine Comedy.

The University of Georgia Press republished his Michael Shaara Prize-winning novel A Distant Flame on April 1, 2011.

Williams's The Flower Seeker: An Epic Poem of William Bartram, came out in 2010. It was named Book of the Year by Books & Culture Magazine.

In May 2007, he received the Governor's Award in the Humanities from the State of Georgia during ceremonies in Atlanta, and in June of that year he was for the second time named Georgia Author of the Year, this time in the essay category in a program at Kennesaw State University. He has since been named Georgia Author of the Year twice more.

His most recent nonfiction book, nature essays called In the Morning: Reflections From First Light, came out in the fall of 2006 from Mercer University Press. He is a featured author in a textbook about Georgia authors for the state's eighth graders that was released in the fall of 2008.

His novel A Distant Flame was published by St. Martin's Press in September 2004. In April 2005, it was named winner of the Michael Shaara Award as the best Civil War novel published in the United States in 2004. Williams received the award in Boston in June 2005. The book was also named, by The Georgia Center for the Book, one of 25 books that "All Georgians Should Read." It came out in a trade paperback edition in November 2005.

His books have been translated into Swedish, German, French, and Japanese and have appeared in large-print editions as well. A number of his books have been optioned for film by such people as producer Richard Zanuck, director Ron Howard, and actress Meg Ryan. He was hired by M-G-M to write the screenplay of his own book, All the Western Stars, though the movie has not yet been made.

Two of Williams's unpublished manuscripts have also been optioned by producers in Hollywood.

Williams has also published poetry in more than 40 magazines, including Poetry, Press, Karamu, the Cumberland Poetry Review and many others. He has two poems in the 2020 edition of The James Dickey Review. He has also published essays and short stories, and one story, "An Early Snow," published in 2000, was nominated by The Chattahoochee Review for a Pushcart Prize.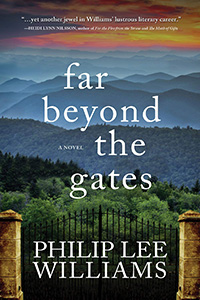 The Book: "Far Beyond the Gates: A Novel"
ISBN: 0881467367
Get the book
Lucy McKay, a high school English teacher from Mississippi, is estranged from her divorced parents. Her father, Pratt McKay, is a professor of history at UNC-Chapel Hill, and her mother a professor of art history at Duke. Pratt, who is ill with multiple sclerosis, invites Lucy to spend her summer vacation with him at his second home, which is in an expensive gated community 250 miles west of Chapel Hill in the Great Smoky Mountains. What Lucy does not know is that her father has been withholding a series of family secrets from her, and he is determined to reveal them over the summer. The visit begins with difficulty for Lucy, who is 35, also divorced, and unhappy.
She and her father have trouble talking about his progressing illness, and she still has mixed feelings about the Pulitzer Prize her father won. Within the gated community, Lucy begins to make friends with some older residents, but her life changes when she meets a landscape contractor named Sean Crayton, who is working on properties in the neighborhood. Lucy is desperate for her father's love, but shortly after she arrives, he reveals a shocking fact about his own years in college. As the days pass and Lucy begins to date Sean, she realizes how unstable her life has been and how desperately she needs the anchor of lasting love to understand what has happened to her.
She must unravel the collapse of her own marriage and the failed ambitions of her ex-husband back in Oxford. She must also try to find a point of balance while dealing with her father. Told in a double-journal form by Lucy and her father, FAR BEYOND THE GATES is a story of love's cost and necessity.
Steve Murphy
, Executive Producer & Host