Interview with Nicholas Meyer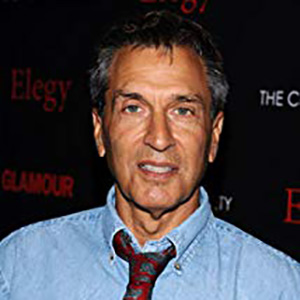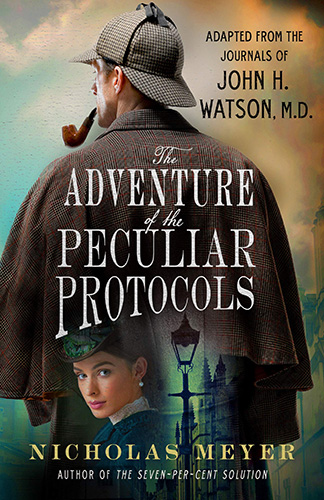 Nicholas Meyer
author of "The Adventure of the Peculiar Protocols: Adapted from the Journals of John H. Watson, M.D."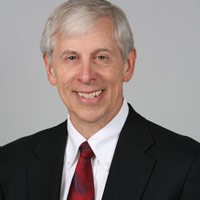 John A. Girardi
Co-Host & Partner at Girardi | Keese
Nicholas Meyer, author of "The Adventure of the Peculiar Protocols: Adapted from the Journals of John H. Watson, M.D."
Meyer's award-winning teleplays for ABC's JUDGE DEE & MONASTERY MURDERS and CBS's NIGHT THAT PANICKED AMERICA launched his screenwriting career, though the WGA strike of 1973 caused him to set aside screenwriting and try his hand at novels. TARGET PRACTICE was published in March 1974 and won an Edgar nomination. It was followed four months later by his Sherlock Holmes pastiche, THE SEVEN-PER-CENT SOLUTION, which remained on the NY Times Bestseller list for 40 weeks and won the British Gold Dagger award for crime fiction.

Meyer's screenplay for The Seven-Per-Cent Solution was nominated for an Academy Award in 1976. The film starred Nicole Williamson, Robert Duvall, Alan Arkin, Laurence Olivier and Vanessa Redgrave.

In 2015 IDW published the graphic novel version of the book in five installments.

Meyer's directing debut – from his own screenplay – occurred in 1979 with TIME AFTER TIME, starring Malcolm MacDowell and David Warner. The film introduced Mary Steenburgen.

This was followed by STAR TREK II – THE WRATH OF KHAN (1982) and THE DAY AFTER, (1983) ABC's nuclear-themed movie, which remains the single most watched television film ever made, nominated for fourteen Emmys. Its controversial telecast drew over one hundred million viewers.

Subsequent Meyer novels include two other Holmes pastiches, THE WEST END HORROR, (1976) and THE CANARY TRAINER (1993); also BLACK ORCHID (co-authored with Barry Jay Kaplan) (1977) and CONFESSIONS OF A HOMING PIGEON (1981).

Other directing credits include VOLUNTEERS, starring Tom Hanks and John Candy (1986), THE DECEIVERS, starring Pierce Brosnan (1988), COMPANY BUSINESS, starring Gene Hackman and Mikhail Baryishnikov (1991), STAR TREK VI, THE UNDISCOVERED COUNTRY, starring Christopher Plummer (1992) and the HBO film, VENDETTA, (1999), starring Christopher Walken.

Other screenplays include SOMMERSBY, starring Richard Gere and Jody Foster (1993) and contributions to the Dreamworks animated feature, PRINCE OF EGYPT.

His screenplay, THE INFORMANT, based on Gerald Seymour's novel, FIELD OF BLOOD, won the PEN award for Best Teleplay, 1999.

His screenplay for the novel THE HUMAN STAIN by Philip Roth, starring Anthony Hopkins and Nicole Kidman, was released October 31, 2003. His screenplay, ELEGY, (based on Roth's novella, THE DYING ANIMAL), was released in August of 2008. The film stars Ben Kingsley, Penelope Cruz, Dennis Hopper, Patricia Clarkson and Peter Saarsgard.

His Hollywood memoir, THE VIEW FROM THE BRIDGE – Memories of Star Trek and a Life in Hollywood, was published by Viking in 2009.

His two-part miniseries, HOUDINI, starring Adrien Brody, aired over Labor Day 2014. Meyer's script was nominated for a WGA award and the series was nominated for seven Emmys.

In 2016, He co-created and wrote the first two episodes of the Netflix series, MEDICI – Masters of Florence, starring Dustin Hoffman.

He also worked on the forthcoming Star Trek television series, DISCOVERY, for CBS Access.

Forthcoming projects include a feature adaptation Dan Simmons' novel, THE CROOK FACTORY, for Johnny Depp, and FREUD – THE SECRET CASEBOOK as well as the limited series, RAT LINE – Nazis on the Run.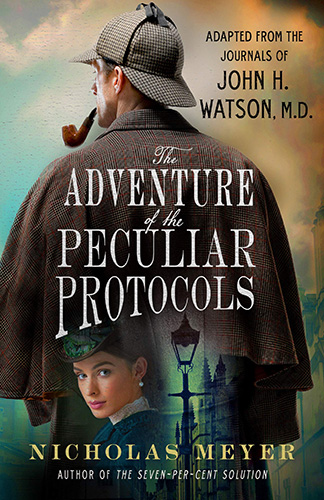 The Book: "The Adventure of the Peculiar Protocols: Adapted from the Journals of John H. Watson, M.D."
ISBN: 1250228956
Get the book
With the international bestseller The Seven-Per-Cent Solution, Nicholas Meyer brought to light a previously unpublished case of Sherlock Holmes, as recorded by Dr. John H. Watson. Now Meyer returns with a shocking discovery―an unknown case drawn from a recently unearthed Watson journal.
January 1905: Holmes and Watson are summoned by Holmes' brother Mycroft to undertake a clandestine investigation. An agent of the British Secret Service has been found floating in the Thames, carrying a manuscript smuggled into England at the cost of her life. The pages purport to be the minutes of a meeting of a secret group intent on nothing less than taking over the world.
Based on real events, the adventure takes the famed duo―in the company of a bewitching woman―aboard the Orient Express from Paris into the heart of Tsarist Russia, where Holmes and Watson attempt to trace the origins of this explosive document. On their heels are desperate men of unknown allegiance, determined to prevent them from achieving their task. And what they uncover is a conspiracy so vast as to challenge Sherlock Holmes as never before.
John A. Girardi
, Co-Host & Partner at Girardi | Keese
John Girardi, Partner at Girardi Keese, is one of America's Finest Trial Lawyers and our Co-Host, as always, brings out the most important key elements to the success of today's guests. He and his firm have been dedicated to working hard and getting the best possible recovery for its clients. Girardi Keese's mission is to provide aggressive representation of individuals and businesses who have been injured in sous way, whether by physical harm, property damage, damage to business, or damage to economic interests. Girardi & Keese has two offices in California: Downtown Los Angeles and San Bernardino.