Interview with Maj. Gen. (RET) Pat Brady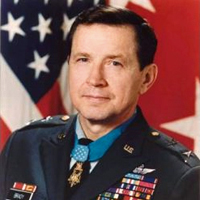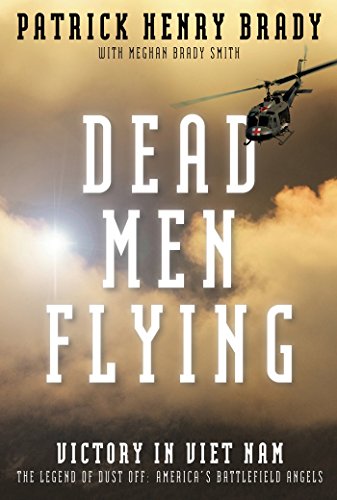 Pat Brady
author of "Dead Men Flying: Victory in Vietnam The Legend of Dust Off: America's Battlefield Angels"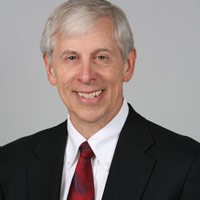 John A. Girardi
Co-Host & Partner at Girardi | Keese
Pat Brady, author of "Dead Men Flying: Victory in Vietnam The Legend of Dust Off: America's Battlefield Angels"
General Patrick Henry Brady Major General Brady spent over 34 years in the Army serving in stations all over the world. He was in Berlin during the building of the wall and returned in 1989 when it was torn down. He served in the Dominican Republic during that conflict, in Korea as commander of the troops at the Joint Security area of the DMZ and for 2 years in Vietnam as a helicopter ambulance pilot. He has eight years' service with America's citizen soldiers, our Reserve Components, and is a former Chief of Army Public Affairs.
While in Vietnam he was awarded the Medal of Honor for a series of rescues during which he used 3 helicopters to rescue over 60 wounded. At the end of the day his aircraft had over 400 holes in them from enemy fire and mines. In two tours in Vietnam he flew over 2500 combat missions and rescued over 5000 wounded. He developed foul weather and tactical techniques for air ambulance rescue never before executed in combat for which he is identified in the Encyclopedia of the Vietnam War and other books as the top helicopter pilot in that war. Some pundits recognize him as the most decorated living veteran.
Gen. Brady is the only living Army veteran of Vietnam to hold both the Medal of Honor and the Distinguished Service Cross, our nation's second highest award. His other awards include two Distinguished Service Medals; the Defense Superior Service Medal; the Legion of Merit; six Distinguished Flying Crosses; two Bronze Stars, one for valor; the Purple Heart and 53 Air Medals, one for valor. He is a member of both the Army Aviation and Dust Off Halls of Fame
He recently published with his daughter Meghan a book, Dead Men Flying, which covers his experiences with the origin and execution of Aero Medical evacuation in Viet Nam, called Dust Off, the greatest battlefield life saver in history.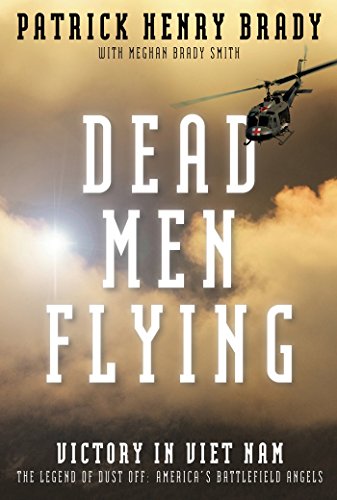 The Book: "Dead Men Flying: Victory in Vietnam The Legend of Dust Off: America's Battlefield Angels"
ISBN:
Get the book
Viet Nam may be the only war we ever fought, or perhaps that was ever fought, in which the heroism of the American soldier was accompanied by humanitarianism unmatched in the annals of warfare. And the humanitarianism took place during the heat of the battle. The GI fixed as he fought, he cured and educated and built in the middle of the battle. He truly cared for, and about, those people. What other Army has ever done that? Humanitarianism was America's great victory in Viet Nam.   Spearheading the humanitarian efforts were the air ambulance operations, call-sign Dust Off, the most dangerous of all aviation operations, which rescued some one million souls in Viet Nam. Dead Men Flying is the story of Charles Kelly, the father of Dust Off, who gave his life to save Dust Off – the greatest life-saver ever. His dying words – When I have your wounded – set the standard for combat medicine to this day.   It is also the story of the author, Medal of Honor recipient General Patrick Brady, who learned from Charles Kelly and struggled to meet his standard. Brady led the 54th Medical Detachment as it rescued over 21,000 wounded – enemy and friendly – in 10 months, while sustaining 26 Purple Hearts. Finally, Dead Men Flying is the story of salvation in the midst of horror, courage in the face of adversity, and the miracle of faith in the heat of combat. A riveting tale from America's most decorated living soldier, this is a book that no American can afford to ignore.
John A. Girardi
, Co-Host & Partner at Girardi | Keese
John Girardi, Partner at Girardi Keese, is one of America's Finest Trial Lawyers and our Co-Host, as always, brings out the most important key elements to the success of today's guests. He and his firm have been dedicated to working hard and getting the best possible recovery for its clients. Girardi Keese's mission is to provide aggressive representation of individuals and businesses who have been injured in sous way, whether by physical harm, property damage, damage to business, or damage to economic interests. Girardi & Keese has two offices in California: Downtown Los Angeles and San Bernardino.