Interview with Leslie S. Klinger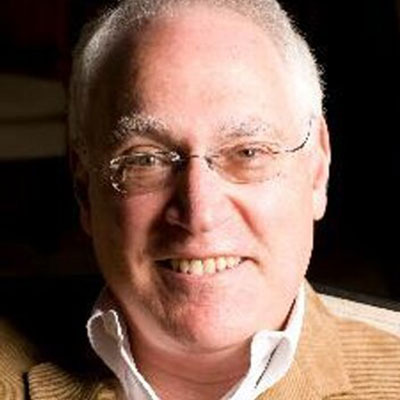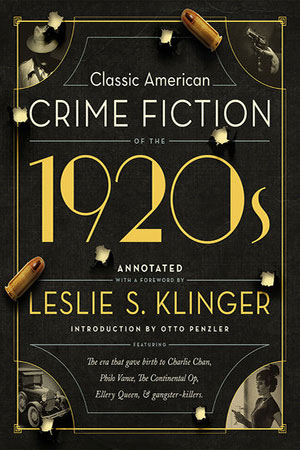 Leslie S Klinger
author of "Classic American Crime Fiction of the 1920s"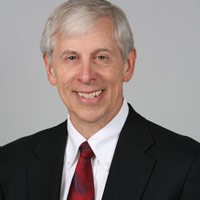 John A. Girardi
Co-Host & Partner at Girardi | Keese
Leslie S Klinger, author of "Classic American Crime Fiction of the 1920s"
Leslie S. Klinger is considered to be one of the world's foremost authorities on those icons of the Victorian era, Sherlock Holmes, Dracula, and Frankenstein. He is the editor of the three-volume collection of the short stories and novels, THE NEW ANNOTATED SHERLOCK HOLMES, published by W. W. Norton in 2004 and 2005, winner of the Edgar Award for Best Critical/Biographical Work and nominated for every other major award in the mystery genre. THE NEW ANNOTATED DRACULA, published by W. W. Norton in 2008, offers a similar in-depth examination of Bram Stoker's haunting classic and its historical context. It received a starred review in Publishers' Weekly.

Since the 1960s, the study of the rich fantastic literature of the Victorian writers has been Klinger's consuming passion. He has written dozens of articles on Sherlockiana, published 20 books on Sherlock Holmes in addition to the Norton work, and regularly teaches UCLA Extension courses on "Sherlock Holmes and His World" and "Dracula and His World." Klinger's Sherlock Holmes Reference Library has been called by the Baker Street Journal "the standard text of reference for all serious Sherlockians." He contributed essays to Playboy Magazine and the Times of London on vampires and served as the technical adviser for Warner Bros. on the "Sherlock Holmes" films starring Robert Downey, Jr. and Jude Law. 

Klinger has edited several anthologies of stories relating to Holmes, vampires, horror, and Victorian fiction, including "In the Shadow of Dracula" and "In the Shadow of Sherlock Holmes" for IDW Books and "In the Shadow of Edgar Allen Poe" for Pegasus Books. He has also co-edited with Laurie R. King three anthologies of new stories about Sherlock Holmes, "A Study in Sherlock," the Anthony-winning "In the Company of Sherlock Holmes," and "Echoes of Sherlock." The four-volume "The Annotated Sandman" in collaboration with Neil Gaiman for DC Entertainment appeared in 2012-14, and his "Watchmen: Annotated Edition" will be published by DC Entertainment in November 2017. Klinger's "The New Annotated H. P. Lovecraft," shortlisted for the Bram Stoker Award, appeared in 2014, and a second volume, "New Annotated H. P. Lovecraft: Beyond the Mythos" will be published by Norton in 2018. However, Klinger's next major book, "NEW ANNOTATED FRANKENSTEIN," will appear from Norton in July 2017.

Klinger and co-editor Laura Caldwell just completed "ANATOMY OF INNOCENCE: TESTIMONIES OF THE WRONGFULLY CONVICTED," published by Liveright Publishing/W. W. Norton on March 28, 2017. This harrowing anthology pairs exonerees with major mystery/thriller writers to tell their tales of despair, hope, and courage. A nonprofit project, proceeds from the book benefit Life After Innocence, which works with exonerees re-entering society.

Born in Chicago, Illinois, Klinger received an AB in English from the University of California, Berkeley, followed by a JD from Boalt Hall (School of Law, U.C. Berkeley). Since then, he has lived in Los Angeles, pursuing a legal career in tax, estate, and business planning. Klinger is a member of the Baker Street Irregulars, the Horror Writers Association, and the Mystery Writers of America. He served for three years as the chapter president of the SoCal Chapter of MWA and on its National Board of Directors, and he is the Treasurer of the Horror Writers Association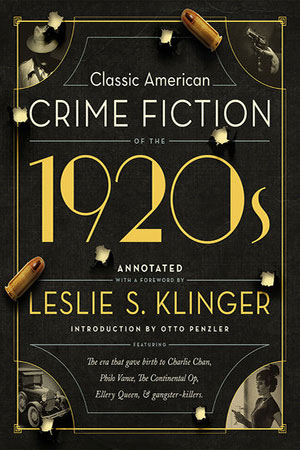 The Book: "Classic American Crime Fiction of the 1920s"
ISBN: B07BJB4NR9
Get the book
A riveting collection of five of the most famous crime novels of the 1920s, presenting anew some of the most admired authors of the era―with insightful annotations by the Edgar-winning anthologist Leslie S. Klinger.
American crime writing was reborn in the 1920s. After years of dominance by British authors, new American writers―with fresh ideas about the detective and the mystery―appeared on the scene and rose to heights of popularity not witnessed since the success of the Sherlock Holmes tales in America.
Classic American Crime Writing of the 1920s―including House Without a Key, The Benson Murder Case, The Roman Hat Mystery, Red Harvest, and Little Caesar―offers some of the very best of that decade's writing. Earl Derr Biggers wrote about Charlie Chan, a Chinese-American detective, at a time when racism was rampant. S. S. Van Dine invented Philo Vance, an effete, rich amateur psychologist who flourished while America danced and the stock market rose. The quintessential American detective Ellery Queen leapt onto the stage, to remain popular for fifty years. Dashiell Hammett brings readers another mystery narrated by the Continental Op. W. R. Burnett, created the indelible character of Rico, the first gangster antihero.
Each of the five novels included is presented in its original published form, with extensive historical and cultural annotations and illustrations added by Edgar-winning editor Leslie S. Klinger, allowing the reader to experience the story to its fullest. Klinger's detailed foreword gives an overview of the history of American crime writing from its beginnings in the early years of America to the twentieth century. This gorgeously illustrated volume includes over 100 color and black and white images as well as an introduction by the eminent mystery publisher Otto Penzler.
Over 100 color and black-and-white illustrations
John A. Girardi
, Co-Host & Partner at Girardi | Keese
John Girardi, Partner at Girardi Keese, is one of America's Finest Trial Lawyers and our Co-Host, as always, brings out the most important key elements to the success of today's guests. He and his firm have been dedicated to working hard and getting the best possible recovery for its clients. Girardi Keese's mission is to provide aggressive representation of individuals and businesses who have been injured in sous way, whether by physical harm, property damage, damage to business, or damage to economic interests. Girardi & Keese has two offices in California: Downtown Los Angeles and San Bernardino.