Interview with Larry Freeland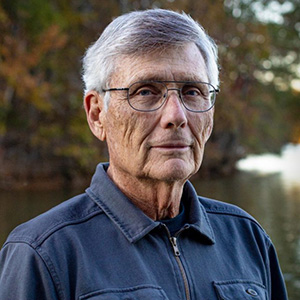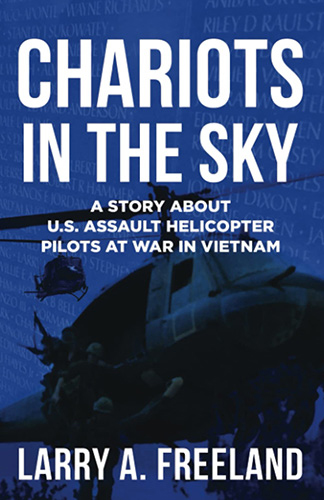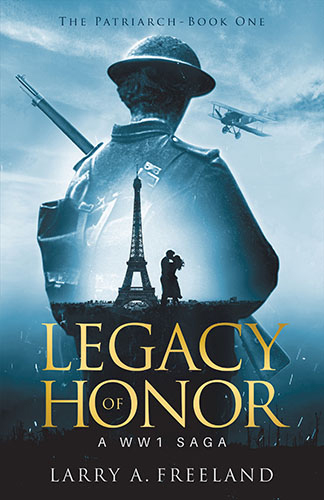 Larry Freeland
author of "Chariots In The Sky"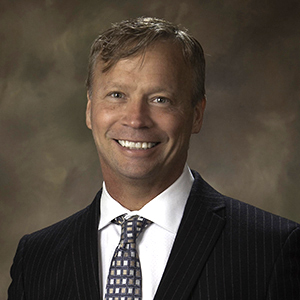 Larry Freeland, author of "Chariots In The Sky"
Larry Freeland was born in Canton, Ohio. Since his father was an officer with the United States Air Force he grew up on many Air Force bases across this country. After graduating from High School at Ramey Air Force Base in Puerto Rico, he attended the University of South Florida in Tampa, Florida. He graduated in 1968 with a degree in mathematics and a concentration in finance. He joined the U.S. Army and served one tour in Vietnam with the 101st Airborne Division as an Infantry Officer and a CH-47 helicopter pilot. He is the recipient of the Distinguished Flying Cross with one Oak Leaf Cluster, the Air Medal, with 10 Oak Leaf Clusters, the Bronze Star, and various other military service medals.
Upon release from active duty in 1973, Larry returned to civilian life and pursued a career in the Financial Industry. During his professional career, he continued his education earning graduate degrees in Management and Banking. He worked for 29 years in the banking business with Trust Company of Georgia, Citizen and Southern Corporation, now Bank of America, and Wachovia, now Wells Fargo. After retiring from banking he worked as an independent financial consultant for 3 years in the Atlanta area and then worked as an instructor for 6 years with Lanier Technical College in their Management and Leadership Development Program.
Larry is now retired and lives in North Georgia with his wife Linda, a retired school teacher. They stay involved in various activities, most notably those associated with the Cystic Fibrosis Foundation and Veterans related organizations. They also enjoy traveling together and spending as much time as possible with their two daughters, three grandsons, and two granddaughters.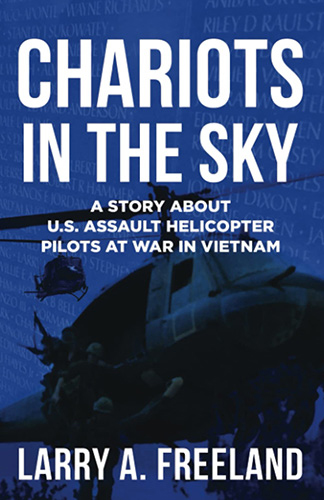 The Book: "Chariots In The Sky"
ISBN: 1954000057
Get the book
Join Captain Taylor St. James, along with his friends and comrades, as they fly harrowing combat missions, cover for each other, deal with bad weather, mechanical problems and human error during the later part of the Vietnam War. When not flying, they are harassed by rocket attacks and sappers in the wire. Taylor discovers the North Vietnamese are not his only enemy as he copes with the pressures put on him by a commander more interested in personal glory than his men's well being.
This is the story of Captain Taylor St. James, a dedicated Army helicopter pilot, who is sent to Vietnam. He just wants to do his job, survive the war and return home to his wife Sandy and family. While performing his duties, Taylor will be challenged and tested beyond any measure he could have ever envisioned.
He is assigned to the Eagles, a Huey Assault Company with the 101st Airborne Division in I Corps. Taylor's unit is stationed at Phu Bai Base where they fly missions throughout the northern region. Their flying exploits take them into many familiar places to include: A Shau Valley, Khe Sanh, Quang Tri Province, Hue, DMZ, North Vietnam and Laos.
Along the way Taylor participated in Lam Son 719, the last major American Offensive Operation of the war. This historical campaign lasted for sixty days and involved over 750 helicopters flying in and out of Laos supporting the South Vietnamese incursion into Laos. Lam Son 719 was the costliest period of helicopter warfare for the Americans. More helicopters were shot down and sustained battle damage than any other period during the Vietnam War.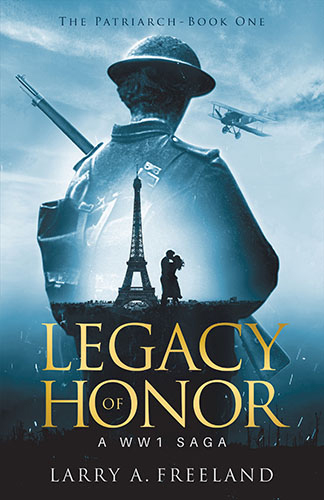 The Book: "Legacy of Honor: The Patriarch"
ISBN: 1954000405
Get the book
The Patriarch of the family, Sam McCormick, is part of a contingent of Ohio National Guard units called up to form the Rainbow Division. They were the first American Division sent to France when America entered World War I. He serves as an Infantryman (Doughboy) with the Rainbow Division of the American Expeditionary Force, fighting in France. He will see action in three major operations: the Second Battle of the Marne (7-5-1918 through 8-6-1918), the Battle of Saint-Mihiel (9-12-1918 through 9-15-1918), and the Battle of the Argonne (9-26-1918 through 11-11-1918). During the War, he and his buddies will be gassed, experience horrific artillery bombardments and machine gun fire as they cross "no man's land" repeatedly to close with the Germans and take their trenches.
He will cross paths with General Pershing the American Expeditionary Force Commanding Officer, General Douglas MacArthur the Rainbow Division Commanding Officer, Sgt. York (most highly decorated American soldier of the War), and Colonel George Patton (the first officer to be appointed to the new US Army Tank Corps).
Sam falls in love with Marie, a French nurse, whom he meets while recovering from his war wounds. They will marry in Paris, and she will immigrate to the United States with him. They settle down in a small Ohio town where Sam works in a steel mill as he struggles to settle back into everyday life. Sam will participate in the "Bonus Army March of 1932" in Washington DC and be drawn into the riots that ensued when the WWI veterans refused to leave their shantytown encampments.
Sam will rise to a senior position in the Steel Industry and be drawn into the Little Steel Strikes of 1937. On Sunday, May 30, 1937, he will witness the Memorial Day Massacre at the Ohio-based Republic Steel mill located in Chicago's Southeast Side. He will then be drawn into a violent strike at his own Steel Mill immediately following the massacre. During the Great Depression, he will maintain his job at the steel mill and become a valued member of the community as he helps other families as they struggle with their daily existence. Nightmares resulting from his WW I experience will haunt him, while lung issues from being gassed and digestive issues from poor food, sanitary conditions and tainted water will plague him the rest of his life.