Interview with Kathleen Kinsolving and Jan Reid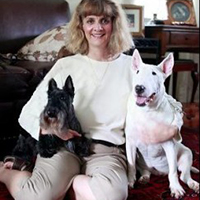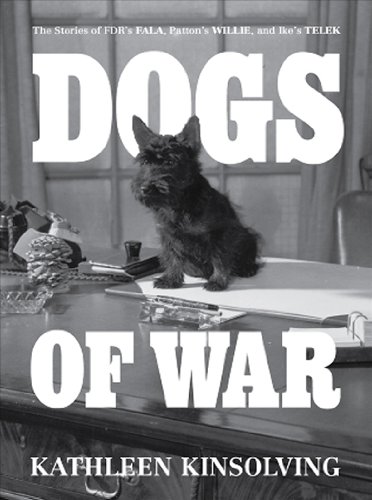 Kathleen Kinsolving
author of "Dogs of War: The Stories of FDR's Fala, Patton's Willie, and Ike's Telek."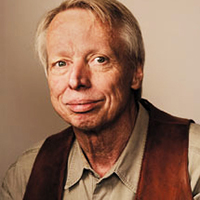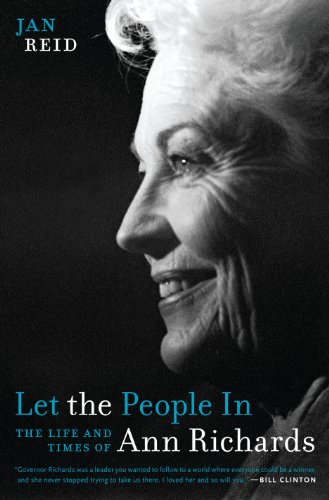 Jan Reid
author of "Let the People In: The Life and Times of Ann Richards"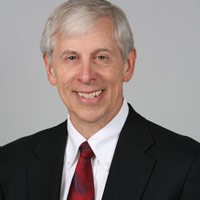 John A. Girardi
Co-Host & Partner at Girardi | Keese
Kathleen Kinsolving, author of "Dogs of War: The Stories of FDR's Fala, Patton's Willie, and Ike's Telek."
A wife and mother in Reston, Virginia, Kathleen Kinsolving teaches English and journalism at Centreville High School in Clifton, Virginia. A descendant of reverends, bishops, actors, authors, poets and reporters, she co-wrote the movie treatment for film about the Jonestown cult that her dad's (Les Kinsolving) reporting exposed.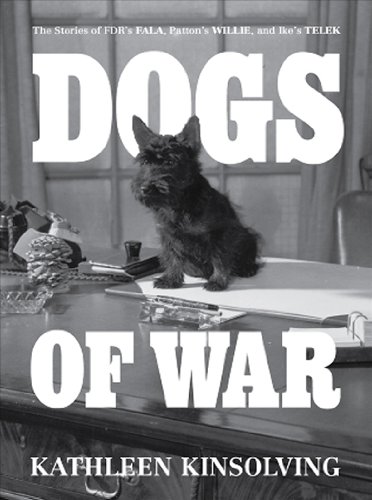 The Book: "Dogs of War: The Stories of FDR's Fala, Patton's Willie, and Ike's Telek."
ISBN: 193648840X
Get the book
Dogs of War is a treasure trove of marvelous anecdotes, scintillating tidbits, and delightful photographs of three beloved dogs sharing the limelight with Roosevelt, Patton, and Eisenhower as they battled together in their efforts to save the world from fascism. It includes such stories as Fala accompanying FDR on board the USS Augusta, where the President and British Prime Minister Winston Churchill signed the Atlanta Charter; Willie, who shuddered with fear at the sounds of gunfire during combat but traveled with Patton everywhere; and Telek, who garnered front page coverage in the British tabloid media when he and wife Caacie, pregnant with puppies, were photographed at a kennel during a six-month quarantine after returning home with Ike from Algiers.Dogs of War celebrates the unconditional, loving bond for man and his best friend, pays tribute to World War II history as our nation approaches the 70th anniversary of Pearl Harbor, and resurrects the tremendous thrill of a forbidden wartime romance. Fala, Willie, and are three incredible dogs who will undoubtedly capture the world's heart!
Jan Reid, author of "Let the People In: The Life and Times of Ann Richards"
Jan Reid is an award-winning journalist, novelist, and biographer. He first won acclaim for his magazine writing and his 1974 portrayal of Willie Nelson and other icons of Texas music, The Improbable Rise of Redneck Rock. His 2012 biography of the late Texas governor, Let the People In, The Life and Times of Ann Richards, has won hurrahs from former President Bill Clinton: "Jan Reid gives us new insight into Ann Richards … a leader you wanted to follow to a world where everyone could be a winner, and she never stopped trying to take you there. I loved her and so will you." Dan Rather: "It's very good. I'm gobbling it up." Pulitzer Prize winner and Al Qaeda chronicler Lawrence Wright: "Here is Ann Richards — ribald, ferocious, vulnerable, and hilarious — the last Texas liberal, well remembered by her friend, Jan Reid. A classic Texas character captured by a classic Texas writer." The Houston Chronicle hailed the biography as one of the ten best nonfiction books of 2012. Reid's novel Comanche Sundown was honored as best fiction of 2011 by the Texas Institute of Letters. Stephen Harrigan, author of the best-selling novel Gates of the Alamo, wrote: "This book represents a summoning of all of Jan Reid's remarkable powers. He writes with a scholar's reach, a novelist's depth, and a native son's intuitive grasp. He has long been one of the best Texas writers ever, and Comanche Sundown is his masterpiece." Other recent books by Reid include The Bullet Meant for Me, a memoir of his recovery from a near-fatal shooting in Mexico City and friendship with a world champion boxer, Jesus Chavez; and Texas Tornado: The Times and Music of Doug Sahm, an Oxford Magazine Music Book of the Year in 2010. Reid's versatile work has appeared in Texas Monthly, Esquire, GQ, Men's Journal, Slate, Garden & Gun, the New York Times, Northern Liberties Review, and the anthologies Best American Sportswriting, The Slate Diaries, and A Legacy of Leadership: Governors in American History. He and his wife Dorothy Browne and their collie Gus live in Austin.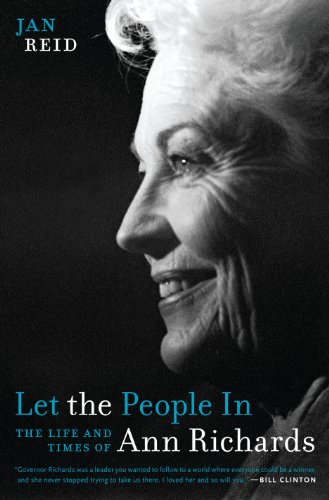 The Book: "Let the People In: The Life and Times of Ann Richards"
ISBN: 0292754493
Get the book
Winner, Coral Horton Tullis Memorial Prize, Texas State Historical Association, 2012
Liz Carpenter Award for Research in the History of Women, Texas State Historical Association, 2012
When Ann Richards delivered the keynote of the 1988 Democratic National Convention and mocked President George H. W. Bush—"Poor George, he can't help it. He was born with a silver foot in his mouth"—she instantly became a media celebrity and triggered a rivalry that would alter the course of American history. In 1990, Richards won the governorship of Texas, upsetting the GOP's colorful rancher and oilman Clayton Williams. The first ardent feminist elected to high office in America, she opened up public service to women, blacks, Hispanics, Asian Americans, gays, and the disabled. Her progressive achievements and the force of her personality created a lasting legacy that far transcends her rise and fall as governor of Texas.
In Let the People In, Jan Reid draws on his long friendship with Richards, interviews with her family and many of her closest associates, her unpublished correspondence with longtime companion Bud Shrake, and extensive research to tell a very personal, human story of Ann Richards's remarkable rise to power as a liberal Democrat in a conservative Republican state. Reid traces the whole arc of Richards's life, beginning with her youth in Waco, her marriage to attorney David Richards, her frustration and boredom with being a young housewife and mother in Dallas, and her shocking encounters with Lyndon Johnson and Jimmy Carter. He follows Richards to Austin and the wild 1970s scene and describes her painful but successful struggle against alcoholism. He tells the full, inside story of Richards's rise from county office and the state treasurer's office to the governorship, where she championed gun control, prison reform, environmental protection, and school finance reform, and he explains why she lost her reelection bid to George W. Bush, which evened his family's score and launched him toward the presidency. Reid describes Richards's final years as a world traveler, lobbyist, public speaker, and mentor and inspiration to office holders, including Hillary Clinton. His nuanced portrait reveals a complex woman who battled her own frailties and a good-old-boy establishment to claim a place on the national political stage and prove "what can happen in government if we simply open the doors and let the people in."
John A. Girardi
, Co-Host & Partner at Girardi | Keese
John Girardi, Partner at Girardi Keese, is one of America's Finest Trial Lawyers and our Co-Host, as always, brings out the most important key elements to the success of today's guests. He and his firm have been dedicated to working hard and getting the best possible recovery for its clients. Girardi Keese's mission is to provide aggressive representation of individuals and businesses who have been injured in sous way, whether by physical harm, property damage, damage to business, or damage to economic interests. Girardi & Keese has two offices in California: Downtown Los Angeles and San Bernardino.