Interview with Gerald Posner and Chris Brenneman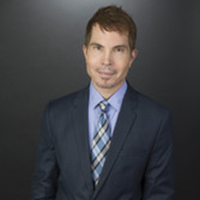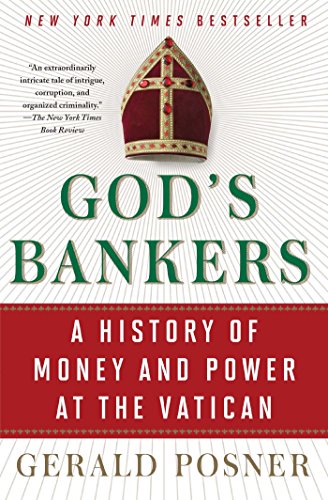 Gerald Posner
author of "God's Bankers: A History of Money and Power at the Vatican"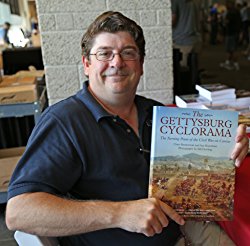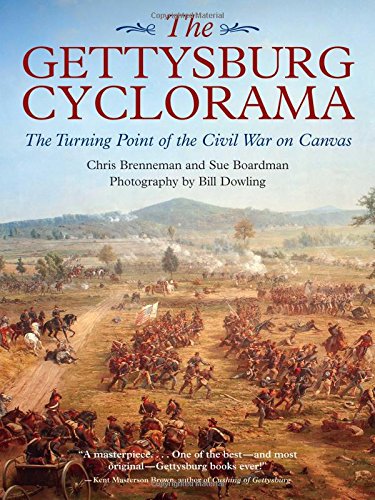 Chris Brenneman
author of "The Gettysburg Cyclorama: The Turning Point of the Civil War on Canvas"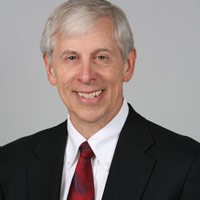 John A. Girardi
Co-Host & Partner at Girardi | Keese
Gerald Posner, author of "God's Bankers: A History of Money and Power at the Vatican"
John Martin of ABC News says "Gerald Posner is one of the most resourceful investigators I have encountered in thirty years of journalism." Garry Wills calls Posner "a superb investigative reporter. "Posner, a former Wall Street lawyer, demolishes myths through a meticulous re-examination of the facts," reported the Chicago Tribune. "Meticulous research," Newsday.
Anthony Lewis in The New York Times: "With 'Killing the Dream, he has written a superb book: a model of investigation, meticulous in its discovery and presentation of evidence, unbiased in its exploration of every claim. And it is a wonderfully readable book, as gripping as a first-class detective story."
"What we need is a work of painstakingly honest journalism, a la Case Closed, Gerald Posner's landmark re-examination of the assassination of John F. Kennedy," concluded Joe Sharkey in The New York Times.
Gene Lyons, in Entertainment Weekly: "As thorough and incisive a job of reporting and critical thinking as you will ever read, Case Closed does more than buttress the much beleaguered Warren Commission's conclusion ….More than that, Posner's book is written in a penetrating, lucid style that makes it a joy to read. Even the footnotes, often briskly debunking one or another fanciful or imaginary scenario put forth by the conspiracy theorists, rarely fail to enthrall…Case Closed is a work of genuine patriotism and a monument to the astringent power of reason. 'A'"
Jeffrey Toobin in the Chicago Tribune: "Unlike many of the 2,000 other books that have been written about the Kennedy assassination, Posner's Case Closed is a resolutely sane piece of work. More importantly, 'Case Closed' is utterly convincing in its thesis, which seems, in light of all that has transpired over the past 30 years, almost revolutionary….I started Case Closed as a skeptic – and slightly put off by the presumptuous title. To my mind historical truth is always a slippery thing. The chances of knowing for sure what happened in any event – much less one as murky as the Kennedy assassination – seem remote. But this fascinating and important book won me over. Case closed, indeed."
Posner was one of the youngest attorneys (23) ever hired by Cravath, Swaine & Moore. A Political Science major, Posner was a Phi Beta Kappa and Summa Cum Laude graduate of the University of California at Berkeley (1975), where he was also a national debating champion, winner of the Meiklejohn Award. At Hastings Law School (1978), he was an Honors Graduate and served as the Associate Executive Editor for the Law Review. Of Counsel to Posner & Ferrara, the New York law firm he cofounded, he is a member of the NY and DC bars as well as the International Criminal Court.
In the past, he was a regular panelist on HistoryCENTER, the History Channel's Sunday current events program. He has been a freelance writer for many news magazines, and a regular contributor to NBC, the History Channel, CNN, FOX News, CBS, and MSNBC. In 2009 he was the Chief Investigative Reporter for The Daily Beast. A former member of the National Advisory Board of the National Writers Union, Posner is a member of the Authors Guild, PEN, The Committee to Protect Journalists, and Phi Beta Kappa. He is a regular lecturer about investigative journalism. His wife, author, Trisha Posner, works with him on all his projects.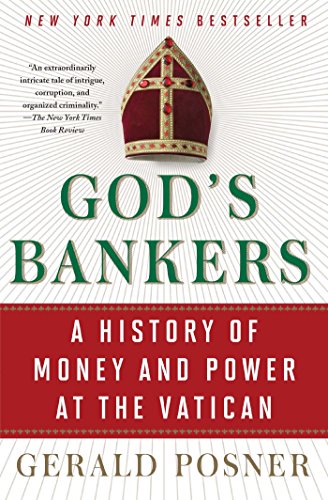 The Book: "God's Bankers: A History of Money and Power at the Vatican"
ISBN: 1416576592
Get the book
A deeply reported, New York Times bestselling exposé of the money and the clerics-turned-financiers at the heart of the Vatican—the world's biggest, most powerful religious institution—from an acclaimed journalist with "exhaustive research techniques" (The New York Times).

From a master chronicler of legal and financial misconduct, a magnificent investigation nine years in the making, God's Bankers traces the political intrigue of the Catholic Church in "a meticulous work that cracks wide open the Vatican's legendary, enabling secrecy" (Kirkus Reviews). Decidedly not about faith, belief in God, or religious doctrine, this book is about the church's accumulation of wealth and its byzantine financial entanglements across the world. Told through 200 years of prelates, bishops, cardinals, and the Popes who oversee it all, Gerald Posner uncovers an eyebrow-raising account of money and power in one of the world's most influential organizations.

God's Bankers has it all: a revelatory and astounding saga marked by poisoned business titans, murdered prosecutors, and mysterious deaths written off as suicides; a carnival of characters from Popes and cardinals, financiers and mobsters, kings and prime ministers; and a set of moral and political circumstances that clarify not only the church's aims and ambitions, but reflect the larger tensions of more recent history. And Posner even looks to the future to surmise if Pope Francis can succeed where all his predecessors failed: to overcome the resistance to change in the Vatican's Machiavellian inner court and to rein in the excesses of its seemingly uncontrollable financial quagmire. "As exciting as a mystery thriller" (Providence Journal), this book reveals with extraordinary precision how the Vatican has evolved from a foundation of faith to a corporation of extreme wealth and power.
Chris Brenneman, author of "The Gettysburg Cyclorama: The Turning Point of the Civil War on Canvas"
A life-long love of Civil War history brought Chris Brenneman, Sue Boardman, and Bill Dowling to Gettysburg. Today they are all Licensed Battlefield Guides at the Gettysburg National Military Park. As part of his job working for the Gettysburg Foundation, Chris has spent hundreds of hours observing the Battle of Gettysburg Cyclorama painting. Chris has a talent for organization and a keen eye for detail which has helped him to identify all of the intricacies of the painting.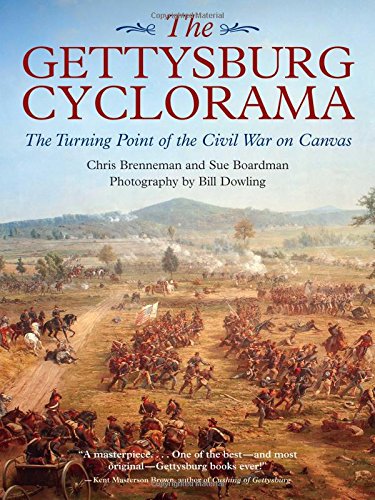 The Book: "The Gettysburg Cyclorama: The Turning Point of the Civil War on Canvas"
ISBN: 1611212642
Get the book
Thousands of books and articles have been written about the Battle of Gettysburg. Almost every topic has been thoroughly scrutinized except one: Paul Philippoteaux's massive cyclorama painting The Battle of Gettysburg, which depicts Pickett's Charge, the final attack at Gettysburg. The Gettysburg Cyclorama: The Turning Point of the Civil War on Canvas is the first comprehensive study of this art masterpiece and historic artifact.
This in-depth study of the history of the cyclorama discusses every aspect of this treasure, which was first displayed in 1884 and underwent a massive restoration in 2008. Coverage includes not only how it was created and what it depicts, but the changes it has undergone and where and how it was moved. Authors Chris Brenneman and Sue Boardman also discuss in fascinating detail how the painting was interpreted by Civil War veterans in the late 19th Century.
With the aid of award-winning photographer Bill Dowling, the authors utilized modern photography to compare the painting with historic and modern pictures of the landscape. Dowling's remarkable close-up digital photography allows readers to focus on distant details that usually pass unseen. Every officer, unit, terrain feature, farm, and more pictured in the painting is discussed in detail. Even more remarkable, the authors reveal an important new discovery made during the research for this book: in order to address suggestions from the viewers, the cyclorama was significantly modified five years after it was created to add more soldiers, additional flags, and even General George Meade, the commander of the Union Army!
With hundreds of rare historic photographs and beautiful modern pictures of a truly great work of art, The Gettysburg Cyclorama: The Turning Point of the Civil War on Canvas is a must-have for anyone interested in the Battle of Gettysburg or is simply a lover of exquisite art.
John A. Girardi
, Co-Host & Partner at Girardi | Keese
John Girardi, Partner at Girardi Keese, is one of America's Finest Trial Lawyers and our Co-Host, as always, brings out the most important key elements to the success of today's guests. He and his firm have been dedicated to working hard and getting the best possible recovery for its clients. Girardi Keese's mission is to provide aggressive representation of individuals and businesses who have been injured in sous way, whether by physical harm, property damage, damage to business, or damage to economic interests. Girardi & Keese has two offices in California: Downtown Los Angeles and San Bernardino.