Interview with Charles Graeber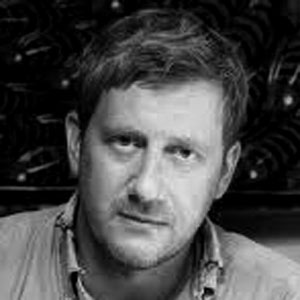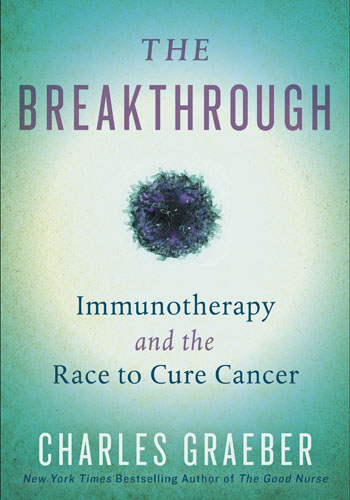 Charles Graeber
author of "The Breakthrough: Immunotherapy and the Race to Cure Cancer"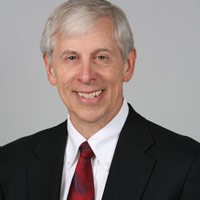 John A. Girardi
Co-Host & Partner at Girardi | Keese
Charles Graeber, author of "The Breakthrough: Immunotherapy and the Race to Cure Cancer"
CHARLES GRAEBER is a contributor to ink and paper outlets including The New Yorker, Elk, New York Magazine, GQ, Outside, Bloomberg Businessweek, The New York Times, National Geographic Adventure, American Cowboy, Vogue, Haaretz, Men's Journal, Details, The Cambodia Daily, The Phnom Penh Post, The Budapest Sun, The Guardian, The Nantucket Beacon, Boston Magazine, Kidney International, MIT Technology Review, Put An Egg On It, NASCAR Magazine, Popular Science, and Wired, for which he is a Contributing Editor, as well as online publications including as The Daily Beast, Salon, Wired online and The New York Times online.​ He has appeared as a guest on 60 Minutes, Fresh Air, Marketplace, Q, CBS this Morning with Charlie Rose and Gayle King, The Joy Behar show, Dana Perino on FOX, C-SPAN, PBS, Bloomberg, Book TV, Al Jezeera, and other media outlets.
His non-fiction book, The Good Nurse, is a New York Times bestseller and Edgar Award finalist heralded as "literary true crime" and "a novel made of journalism." His book The Breakthrough was shortlisted as the 2019 Medical Book of the Year by the British Medical Association. Graeber is Executive Producer of an 8-part Netflix documentary series and serves on the boards of the New York Writers Room, The Overseas Press Club of America, and Building Markets, an international nonprofit organization that works to empower refugees from war, poverty and persecution.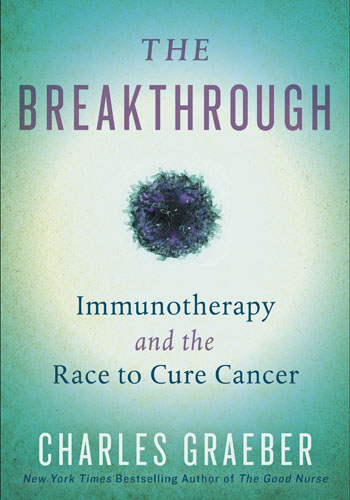 The Book: "The Breakthrough: Immunotherapy and the Race to Cure Cancer"
ISBN: 1455568503
Get the book
New York Times bestselling author Charles Graeber tells the astonishing story of the group of scientists working on a code that can enable the human immune system to fight — and perhaps even cure — cancer.
For decades, scientists have puzzled over one of medicine's greatest mysteries: why doesn't our immune system fight cancer the way it does other diseases? The answer is a series of tricks that cancer has developed to turn off normal immune responses — tricks that scientists have only recently discovered, and now are learning to defeat. We are in the midst of a revolution in our understanding of cancer and how to beat it.
Groundbreaking, riveting, and expertly told, The Breakthrough is the story of the game-changing and Nobel Prize-winning scientific discoveries that unleash our natural ability to recognize and defeat cancer, as told through the experiences of the patients, physicians, and immunotherapy researchers who are on the front lines. This is the incredible true story of the race to find a cure, and the definitive account of a historic moment in medical science.
Cancer treatment has long relied on "cut, burn, and poison" methods: surgery, which science journalist Graeber (The Good Nurse: A True Story of Medicine, Madness, and Murder, 2013) notes has been with us for thousands of years, coupled with the more modern radiation therapy and chemotherapy.
Immunotherapy leverages the body's natural defense systems, made up of hundreds of millions of cells that are constantly "searching [for] and destroying the invaders that make us sick and the body cells that have become infected, mutated, or defective"—all of which describe cancer.
Immunotherapy, in short, unlocks the natural-born cancer killer within, which is no easy task, inasmuch as a hallmark of cancer is its ability to lurk within the body undetected until, at least of old, it is too late. As the author chronicles, scientists have yet to completely understand the workings of the T cell "as the serial-killing attacker of foreign cells," but they have figured out what switches that cell on: a system of responses that are "something like how multiple keys are required to unlock a nuclear button or to open a safe deposit box."
This helps moderate a constant danger that the immune system responses can sometimes lead to autoimmune diseases, where the cells lock onto the wrong thing; thus the "many redundancies and fail-safe feedback loops built into the immune response." Enough has been learned that previously discarded immunotherapies are being studied to determine whether they would work "with the brakes off," after having been paired with a "checkpoint inhibitor."
Graeber reports that immunology researchers are promising more soon—more drugs, more fast-tracking to get therapies into hospitals, more "biomarkers to better describe cancer with molecular specificity." Though sometimes clumsily written, the book offers hope for more effective treatments in the near future.
A readable survey of the emerging field of immunotherapy in cancer treatment.
John A. Girardi
, Co-Host & Partner at Girardi | Keese
John Girardi, Partner at Girardi Keese, is one of America's Finest Trial Lawyers and our Co-Host, as always, brings out the most important key elements to the success of today's guests. He and his firm have been dedicated to working hard and getting the best possible recovery for its clients. Girardi Keese's mission is to provide aggressive representation of individuals and businesses who have been injured in sous way, whether by physical harm, property damage, damage to business, or damage to economic interests. Girardi & Keese has two offices in California: Downtown Los Angeles and San Bernardino.