Interview with Beth Lew-Williams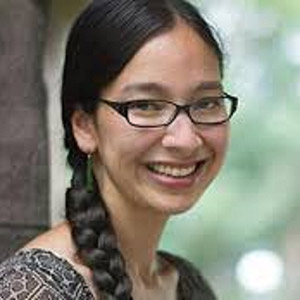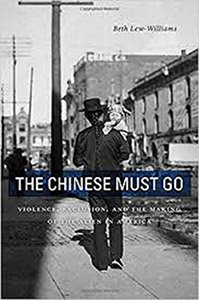 Beth Lew-Williams
author of "The Chinese Must Go: Violence, Exclusion, and the Making of the Alien in America"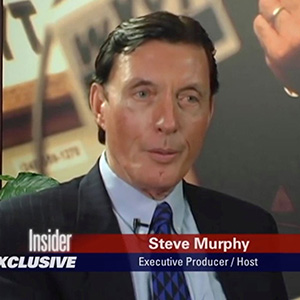 Steve Murphy
Executive Producer & Host
Beth Lew-Williams, author of "The Chinese Must Go: Violence, Exclusion, and the Making of the Alien in America"
Beth Lew-Williams is a historian of race and migration in the United States, specializing in Asian American history. Her current project examines the role of Chinese migration and anti-Chinese violence in the making of the modern American alien. Her manuscript, The Chinese Must Go: Violence, Exclusion and the Making of the Alien in America (Cambridge, MA: Harvard University Press, forthcoming 2018), offers a new history of Chinese Exclusion that maps the tangled relationships between local racial violence, federal immigration policy, and U.S. imperial ambitions in Asia.

Lew-Williams is also a contributor to the Chinese Railroad Workers in North American Project(link is external) at Stanford University. This transnational collaborative effort seeks to give voice to the Chinese migrants who built the transcontinental railroad and transformed the U.S. West.

Lew-Williams earned her A.B. from Brown University and Ph.D. in history from Stanford University. She has held fellowships from the Harry Frank Guggenheim Foundation, Andrew W. Mellon Foundation, the American Council of Learned Societies, and the George P. Shultz Fellowship in Canadian Studies. She has been in residence at UW-Madison's Institute for Research in the Humanities and the Institute for Advanced Study.  Before coming to Princeton in 2014, she was an ACLS New Faculty Fellow at Northwestern University appointed in History and Asian American Studies.

Her teaching interests include Asian American studies, ethnic studies, migration studies, and the history of the U.S. West.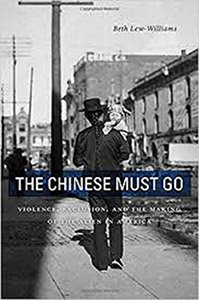 The Book: "The Chinese Must Go: Violence, Exclusion, and the Making of the Alien in America"
ISBN:
Get the book
The American West erupted in anti-Chinese violence in 1885. Following the massacre of Chinese miners in Wyoming Territory, communities throughout California and the Pacific Northwest harassed, assaulted, and expelled thousands of Chinese immigrants. Beth Lew-Williams shows how American immigration policies incited this violence and how the violence, in turn, provoked new exclusionary policies. Ultimately, Lew-Williams argues, Chinese expulsion and exclusion produced the concept of the "alien" in modern America.
The Chinese Must Go begins in the 1850s, before federal border control established strict divisions between citizens and aliens. Across decades of felling trees and laying tracks in the American West, Chinese workers faced escalating racial conflict and unrest. In response, Congress passed the Chinese Restriction Act of 1882 and made its first attempt to bar immigrants based on race and class. When this unprecedented experiment in federal border control failed to slow Chinese migration, vigilantes attempted to take the matter into their own hands. Fearing the spread of mob violence, U.S. policymakers redoubled their efforts to keep the Chinese out, overhauling U.S. immigration law and transforming diplomatic relations with China.
By locating the origins of the modern American alien in this violent era, Lew-Williams recasts the significance of Chinese exclusion in U.S. history. As The Chinese Must Go makes clear, anti-Chinese law and violence continues to have consequences for today's immigrants. The present resurgence of xenophobia builds mightily upon past fears of the "heathen Chinaman."
Steve Murphy
, Executive Producer & Host