Interview with Anthony M. DeStefano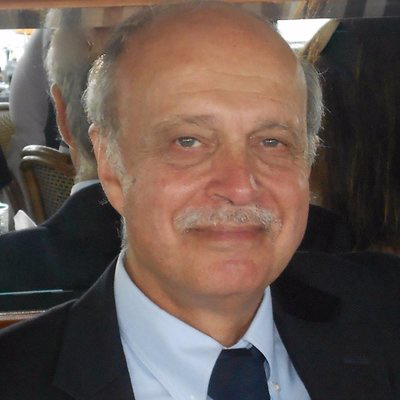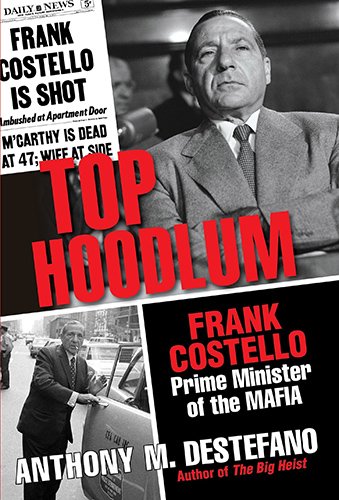 Anthony M. Stefano
author of "Top Hoodlum: Frank Costello, Prime Minister of the Mafia"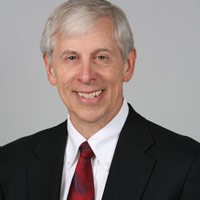 John A. Girardi
Co-Host & Partner at Girardi | Keese
Anthony M. Stefano, author of "Top Hoodlum: Frank Costello, Prime Minister of the Mafia"
Anthony M. DeStefano has covered organized crime for over three decades. For the past 20 years he has been a reporter for Newsday in New York City, specializing in criminal justice and legal affairs. (The reference to Newsday is for identification only and the newspaper has no connection to this website.)
As part of the staff of Newsday, Mr. DeStefano has covered a number of major trials, including those of subway gunman Bernhard Goetz (1987), The Happy Land Social Club Fire (1991), reputed Gambino crime boss Peter Gotti (2003), former Bonanno crime boss Joseph Massino (2004) and the so called "Mafia Cops" (2006). He also covered the case against Wall Street Ponzi schemer Bernard Madoff from 2008 through 2014.
As a result of his coverage of the Massino trial, DeStefano has written the book "The Last Godfather: Joseph Massino and The Fall of The Bonanno Crime Family" (Citadel Press) which is now available in books stores such as Barnes and Nobles and online.
DeStefano's continuing coverage of the Mafia led to two additional books: "Mob Killer: The Bloody Rampage of Charlie Carneglia, Mafia Hit Man" (June 2011) and "Vinny Gorgeous: The Ugly Rise And Fall Of A New York Mobster (July 2013). His coverage of human trafficking inspired another book, "The War On Human Trafficking." All the books are available at books stores and online.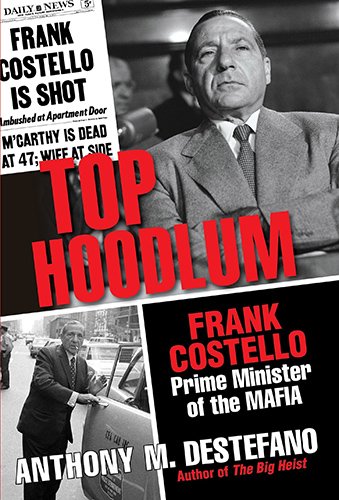 The Book: "Top Hoodlum: Frank Costello, Prime Minister of the Mafia"
ISBN: 0806538694
Get the book
The press nicknamed him "The Prime Minister of the Underworld." The U.S. Treasury's Bureau of Narcotics described him as "one of the most powerful and influential Mafia leaders in the U.S." But to friends and associates, he was simply "Uncle Frank." Who was Frank Costello really? That's the question Pulitzer Prize-winning reporter Anthony M. DeStefano sets out to answer—in this definitive portrait of one of the most fascinating figures in the annals of American crime…
Using newly released FBI files, eyewitness accounts, and family mementos, Top Hoodlum takes you inside the Mafia that Frank Costello helped build from the ground up, from small-time bootlegging and gambling to a nationwide racketeering empire. The book's stunning revelations include:
* Costello's secret interviews with federal investigators—now released for the first time
* His private meetings with FBI director J. Edgar Hoover
* His partnership with Charlie "Lucky" Luciano and how they brutally displaced the old guard of the Mafia
*Surviving an assassination attempt by Genovese Family hitman Vincent "Chin" Gigante
*His crime family's role in the now legendary suicide of Abe "Kid Twist" Reles, a Murder, Inc. member who was about to rat out the mob
* His personal involvement in the notorious 1947 "mob summit" in Havana, Cuba
* His secret interests, both real and suspected, in Las Vegas, New Orleans, and Manhattan night clubs like the Copacabana
* His power over politicians, rapport with reporters, and amazing ability to evade the feds
* His refusal to admit his crimes long after he retired—until his death in 1973
Sometimes shocking, sometimes amusing, and always riveting, these are the stories that have inspired American crime classics like The Godfather, Casino, Goodfellas, and The Sopranos. This is the man who made the Mafia such a powerful force in our nation's history. This is Top Hoodlum.
John A. Girardi
, Co-Host & Partner at Girardi | Keese
John Girardi, Partner at Girardi Keese, is one of America's Finest Trial Lawyers and our Co-Host, as always, brings out the most important key elements to the success of today's guests. He and his firm have been dedicated to working hard and getting the best possible recovery for its clients. Girardi Keese's mission is to provide aggressive representation of individuals and businesses who have been injured in sous way, whether by physical harm, property damage, damage to business, or damage to economic interests. Girardi & Keese has two offices in California: Downtown Los Angeles and San Bernardino.